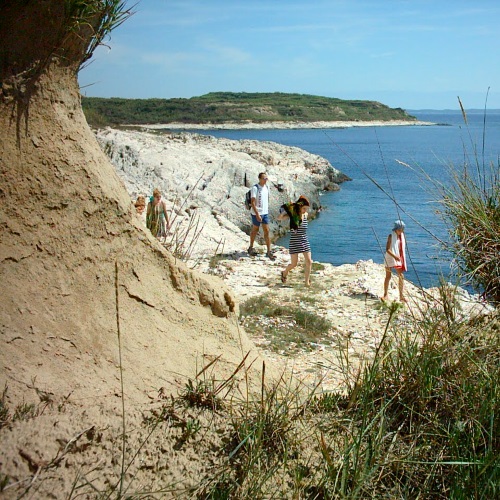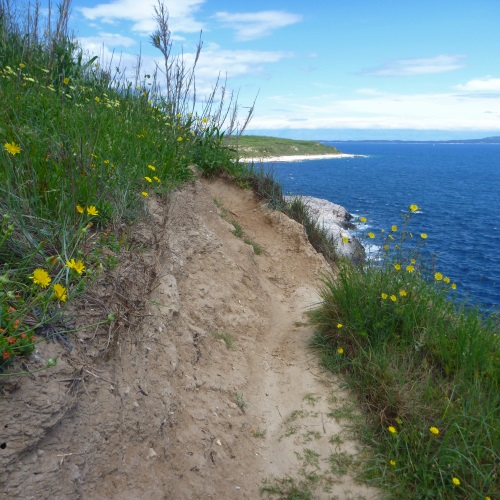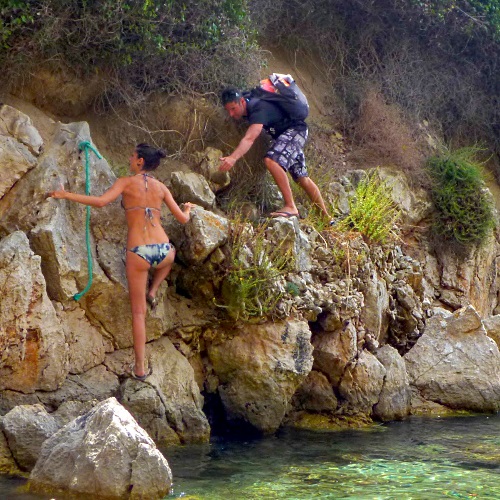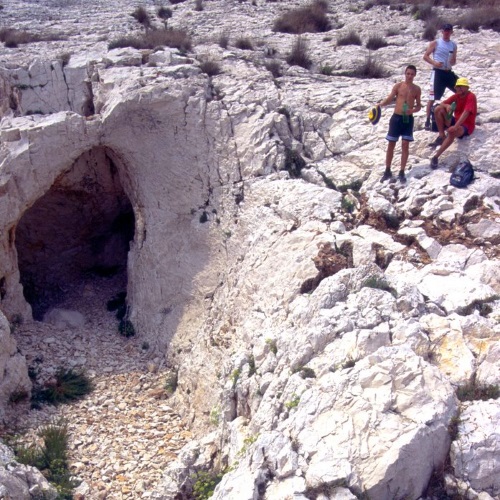 Hiking around Susak
This one-day adventure is a great way to get to know all the island's bay and coves. I myself have done it over 15 times till now and continue doing it at least once every summer. Based on my own experience, here are some tips which might help you:
To do the whole circle around the island on foot it will take you about 4 hours, if you don't count in brakes. Susak has the circumference of about 12 km (7.5 miles). The terrain is pretty easy on the north-east side, but is quite rough on the south-west side of the island. The trip itself should be carefully planned and should bot be tried if one is not fit enough to withstand 4-5 hours of rough terrain and hot sun.
Info
Trail length: 12 km = 7.5 miles
Walking time: 3-4 hours
Difficulty: difficult (demanding terrain, long walking time)
Planing your trip
Make sure to take the following equipment:
good firm walking shoes - IMPORTANT!! The rocks along the way are very sharp, making it impossible to cross in sandals or flip-flops.
t-shirt
a hat to protect you from the sun
sunglasses
backpack to put your stuff in
cellular phone for case of emergency
basic first aid kit
a towel
swimming costume
a camera to take pictures of things you see along the way
Take enough food and water:
1,5-2 liter of water
1-2 sandwiches
a candy bar for energy - don't take chocolate because it will melt
Directions
It's best to start early in the morning - not later than 8am and do a clockwise circle. That way you will never have the sun shining directly in your face, and will cross the most difficult part of the trip while you are still fresh. The last section from Zali Bok to Spiaza is the easiest. Another advantage of going this way is that within the first two hours of walking you still have an option of giving up, without having to walk all the way back. The last place where you can climb uphill and return to village is the Nasuzanski bay.
The only tricky section of the whole trip is getting across the Zali Bok cove. This tinny cove is enclosed from the both sides by vertical stone walls (4 meters wide, 3 meters high). It will take a bit of climbing ti get through, but don't worry - you'll be climbing maybe 1 meter above see surface. For most of the people this will be a lot of fun, however even if it's too much for you, you can easily swim across.
Measures of precaution
make sure you notify somebody of your plans
let them know on which direction you are heading and when you plan to return to the village
if you have any doubts on whether you will be up to the task:

give up - just don't go for it
have someone following you by a boat, so that they can pick your up

never go alone: in case something happens to one, the other can still get help